Updated: Contest winners announced!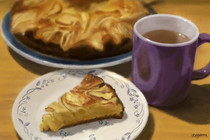 Contest winner
UPDATE: Congratulations to the winners of the contest! Although many submissions cannot be described as typical still life art we hope you had fun in your making your paintings and we'd be very happy to see you all in upcoming contests. The next one will be one not focus on typical painting!
The winners
1st place goes to aryeom who painted a very realistic looking Apple cake and cinammon tea. 26 votes are clearly more than anyone else received.
And then we've a premier: we've got 3 equal second places who all got 14 votes. solensdatter2 got big attention for her Flowers and maou painted some Japanese sweets called Wagashi very clean and sharp.
See you next time!
Original news article:
Yesterday our contest ended and it's time for all of you to help us determine the winners. The voting period has now started.
View the submissions on our contest page and vote for every submission you find appealing! Until the end of the voting you can give/take back all votes as long as you want. You can of course also discuss the submissions using the comments!
The voting will end in about a week, then we will know the winners. We want to thank all participants for their beautiful works and hope you enjoyed the painting.
Hopefully we see you soon in a new contest!