GIMP 2.10.10: Cool new stuff incoming!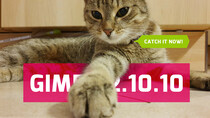 GIMP 2.10.10 has been released
As promised the dev team now also releases new features and cool improvements in the stable branch of GIMP, which leads us to these cool new stuff:
Line art detection in the Bucket Fill tool for comic artists
Various usability improvements in transformation tools
Sample Merged option added to the Heal tool and fixed in the Clone tool
Parametric brushes now have 32-bit per channel precision
Easier brush and pattern creation workflow
On-canvas layer selection
Faster saving/exporting and layer groups rendering
Initial

DDS

support
Many improvements in

GEGL

, the image processing engine
I think the coolest new feature is for painters and comic artists, where you can now fill color to line art very easy with the bucket fill tool. Thats a real time saver, wow!
In a production workflow you'll mostly have a lot of layers in the GIMP layers stack. In older versions you could only use a very basic layer selection with an option of the Move tool. And my favorite new feature is the much smoother on-canvas layer selection by using ALT+MiddleMouse now. It switches through the available layers and you can easily select the right one, without even having to look into the layers dialog at all. Awesome!
All in all the new release is really cool – you should definitely update your GIMP :-)
Please find a detailed list at the official GIMP website. There are also some demo videos of the new stuff.
We've already updates our downloads section and you can download the new version already from there.