GIMP 2.10.18 now offers a super cool 3D transform tool and streamlines the UI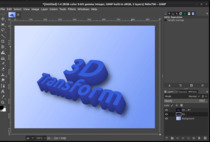 The new 3D transform tool
A few weeks ago the GIMP team released version 2.10.18 – a pretty cool new version which comes with a new 3D transform tool and much more.
These are the changes:
Tools are now grouped in the toolbox by default
Sliders now use a compact style with improved user interaction
Vastly improved user experience for the transformation preview
Dockable areas now highlighted when a dockable dialog is being dragged
New 3D Transform tool to rotate and pan items
Much smoother brush outline preview motion on the canvas
Symmetry painting enhancements
Faster loading of

ABR

brushes

PSD

support improvements
Consolidated user interface for merging down and anchoring layers
Update check to notify users of new releases available
28 bug fixes, 15 translation updates
There are a lot of illustrations on the official GIMP Website
This is an awesome new version and you should check it out definitely earlier than later :) We've also updated our downloads section to reflect the latest version updates. Enjoy!