GIMP 2.9.8 comes with great improvements!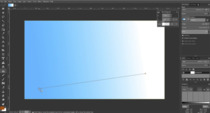 The new gradient tool in action
GIMP 2.9.8 offers canvas editing for gradients. This is a pretty cool new feature and some might find it a bit similar to the gradient tool of Inkscape – which is great. You can edit a gradient line on the canvas and also set additional points to add more colors to the gradient.
Other cool new stuff:
A new display filter that warns you of over and under-exposed areas (if a color adjustment would make bright or dark parts drifting into pure white or black)
You can now paste to the exact same place where you copied a part of the image before.
Better color management, better Wayland support (Wayland is a new display server of Linux competing to Xorg),

GUI

and usability has been improved, Wavelet decompose got new options and a lot of other things!
As announced 2.9.8 should be the last release before a series of release candidates for GIMP 2.10!
Read more details in the official news announcment