20 years anniversary: GIMP 2.8.16 and a new website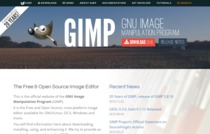 The new official GIMP website
It's now been (more than) 20 years since the development for GIMP has been initiated. In these years it became one of the most interesting and known computer programs in the world, not only in the area of open source! Only very few programs can look back on a development that has been that long. And there are still some exciting things to come with GIMP 2.10 which still needs some help in converting plug-ins to the new engine of GIMP.
Together with the celebration of this great anniversary the team worked on some bug fixes in the 2.8 series of GIMP. And there is now a great new official website that looks much more modern. Congratulations Pat David!
Official overview of changes from GIMP 2.8.14 to GIMP 2.8.16
===========
Core:
- Seek much less when writing
XCF
- Don't seek past the end of the file when writing
XCF
- Windows: call SetDLLDirectory() for less
DLL
hell - Fix velocity parameter on .
GIH
brushes - Fix brokenness while transforming certain sets of linked layers
GUI:
- Always show image tabs in single window mode - Fix switching of dock tabs by
DND
hovering - Don't make the scroll area for tags too small - Fixed a crash in the save dialog - Fix issue where ruler updates made things very slow on Windows
Plug-ins:
- Fix several issues in the
BMP
plug-in - Make Gfig work with the new brush size behavior again - Fix font export in the
PDF
plug-in - Support layer groups in OpenRaster files - Fix loading of
PSD
files with layer groups
General:
-
OSX
build system fixes - Bug fixes - Translation updates
Our download section has also been updated reflecting the latest changes.