ZeMarmot – A Libre Movie made with GIMP and other open source software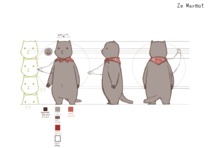 The star of ZeMarmot is.. a marmot :D
ZeMarmot is a new libre animation movie – that means it is made by enthusiasts commited to open source software. In the film you can follow the Marmot (actually a marmot as any others :-)) adventuring the world.
ZeMarmot is a road trip movie, about a Marmot, who loves to sleep and eat, and decides to leave his comfy burrow to discover the world.
It is a project of 2D animation movie (digital cell-animation) about wandering and freedom, planned to be released under Creative Common Attribution-ShareAlike 4.0 International/Art Libre licenses and fully made with creative Free Software (GIMP, Blender, Ardour…).
The team around the movie is growing and they look for your support, too. It takes a lot of time to make things happen and with your donation you'd really help enthusiasts to create a unique piece of film made with pure love!
Please visit their project page and support the project. It's really worth donating to!