GIMP gets closer to the community with Google+!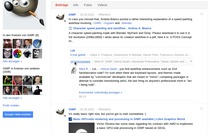 GIMP on Google+
For long time it was'nt so easy to get in touch with GIMPs developers on a social networking way. Since 2 months GIMP is now on Google+!
The developers and other people involved into GIMP are posting in depth news about the project, stuff around GIMP and other open source graphics and also different work of people that has GIMP involved in some kind. The time is gone where most of the developers are only reachable via IRC or (the somehow old school) mailing list ;) This is not replacing gimp.org but shall be a new way to distribute more news around GIMP! It's a great idea and has a big success already!
Join the GIMP team on Google+