Libre Calendar 2015 done by 6 artists using open source software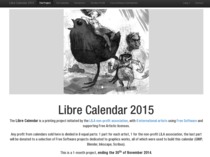 The Libre Calendar 2015
As you're reading this text, you seem to be basically interested in free software as GIMP is. Now is your chance to get a calendar for 2015, that is done by artists that entirely used open source software to create it!
The Libre Calendar 2015 founds 5 artists, each contributing 2 unpublished artworks to the calendar (one for each month, and 2 renders additionally come from the Blender foundation). You can choose the payment yourself – its pending from 15 to 30 EURO. The revenue is divided into 8 parts (a part for every artist, one part for the non profit association LILA which created the project and one part for the open source programs). So, by buying this calendar you're helping the open source sector in general!
GIMP is used by several artists contributing to the calendar. You may know Patrick David already, he's helping the GIMP website with updates and tutorials and is also making cool photography stuff on his Blog.
Aryeom won one of our contests last year and is currently founding her own animation studio girinstud.io.
Gustavo Devenze is a south american animation film director, who's also using GIMP! View all artists here
Support them and get the calendar here. The project is only running until November 30th! Seems like a perfect christmas present, doesn't it ;) ?