11 space artworks need your votes!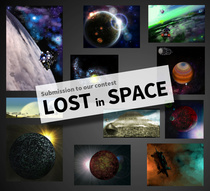 Vote for your favourite space scenes!
Finally, our recent contest has ended, no more submissions are possible and the voting has just begun!
11 great artworks have been submitted. From smooth space walks and great star views up to rapid space bikers – there is plenty of stuff to be liked ;) Head over to the submissions page to see what your GIMP friends have created. And then distribute your votes! We're curious who will make the run this time!
Not enough space yet? Also don't miss the fabulously created artworks that have been submitted to the contest on our German website. There were also 11 submissions and you can still vote for them too (with your same user account).
It was an awesome contest – and there will be a new one soon. Have a nice time!