The future of the GIMP registry: automatic plug-in installations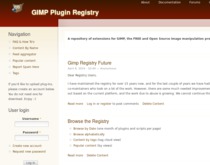 The GIMP registry is looking for a person with technical know how to deeper integrate in tino GIMP
Ingo, the maintainer of the plug-in registry for GIMP, has written an open letter to the community where he asks for help. The registry team does have a lot of work with the current status of the plugin directory and maintaining it. However, they would like to see a deeper integration of the plug-ins to GIMP.
"Specifically, we need a plug-in which could access a back-end database over the Internet, carry out queries, receive data in XML or JSON format, download plug-ins, and install them automatically. Ideally, it should also be able to display and acquire meta-data, such as ratings, permissions required, etc."
The team needs a person that is able to write a GIMP plugin and who does also have knowledge on web development as a whole.
Please spread the word on this, since a better integration of all of the awesome plug-ins into GIMP would be awesome and really helpful to get rid of the whole installation process of plugins which can be sometimes a bit tricky to new and long-time users.