Get the fifths release of the GIMP Magazine!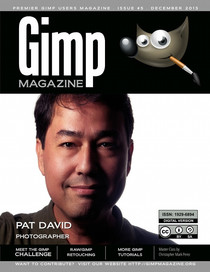 5th issue of the GIMP magazine
Time for the GIMP Magazine! The Team has been working hard to bring you a new great issue featuring the great photographer Pat David!
In the 5th issue of the GIMP magazine he shows us some cool things on portrait retouching (including noise reduction, smoother skin, color correction, hightlights and much more). It's 20 pages but it's really worth a read! Patrick David also runs a Blog where he publishes tutorials showing techniques that are specialized on photo retouching.
Christopher Mark Perez, who already wrote for the magazine before, is back for a more "dark" article. He shows us the touch up of one of his photos with the "GUM OVER PALLADIUM" effect.
The magazine has many contributions from the community too and much more to offer so download the PDF or view it online on ISSUU!
Please consider a donation to the magazin! You can also buy a printed copy or an iPad version which supports the creators of the magazine.