New GIMP feature: Canvas Rotation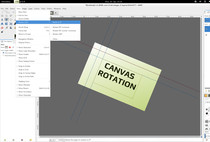 Canvas rotation feature
On the weekend Michael Natterer implemented a new feature that was often requested by painters: Canvas rotation.
The canvas rotation feature lets you set an angle for the whole view of the image window by pressing SHIFT+Middle mouse button. You can also set it by 15° steps when pressing CTRL+SHIFT+Middle Mouse.
The feature is working great already and still is a work in progress of course (it's only found in the development version). Currently everything inside the canvas is rotated, this means when using other tools they get the rotated view too. I.e. if you use the rectangle selection tool you'll get a rotated selection inside the canvas instead of a "normal" one. Same example on the paintbrush tool: set a 0° angle on the brush in the preferences and you'll still get a rotated brush when the canvas is rotated. This was already discussed in the official IRC as I was told, and there was no decision yet if this will be the final behavior or if the developers add something that allows the user to decide if the tools should synchronize with the canvas or get their own view. It's a work in progress!
You can try the feature in the latest development build. Be sure to check out Alexandres demo video found at his blog to see it in action or just click to play below.