GfxTablet Android app to draw in GIMP now available in Play Store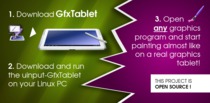 GfXTablet in the official Play store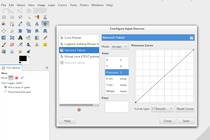 The Newtork Tablet is loadedin GIMP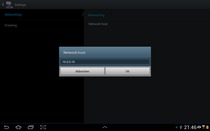 The settings dialog inside the app where you enter your desktop PCs IP address
Last week we released the first prototype of our android app that allows you to use your android device as a graphics tablet to work in GIMP and other programs. We're pleased to announce it's arrival in the Play store!
Important: Please follow GfxTablet on Twitter, subscribe to our RSS/Atom feed or subscribe to email notifications for future notifications and information on the development! We're not going to make more news on this here.
First of all: thank you for the tremendous positive feedback! We were really happy to have made something that is so appreciated by the community all around the world.
Free download / more simplified usage
We've very much simplified the usage of the app on the desktop now. Thanks to Peter Hutterer (working for Red Hat and is responsible for all kind of XOrg input drivers), who informed us that an Xorg driver would not be a good choice for what we tried to achieve, we moved from an XOrg driver to an easy-to-use uinput driver (which is a kernel module for user-mode input drivers). The new uniput driver is also available as a binary file which can be run "on-demand" when you want to paint with your tablet. And when done just close the terminal/program. You don't even need to restart your computer or compile anything (although it'd be only a 1-line compile). So basically you only need to connect your tablet via WiFi, run the binary on a terminal, then run the app and you can start painting in GIMP (for example!).
Well, besides that we fixed some bugs in the app (thanks for the bug reports on github), paid the google play store fee and made it available there. You can now download it and receive updates easily. Look for GfxTablet, which is the name of the app now. The App is totally free. If you want to support us you could send a donation on PayPal
Open source development
If you know anyone that can make a driver for Windows or Mac, or if you just want to enhance the app please feel free to join the development!
Official project website (installation instructions)
GfxTablet @ PlayStore