The invasion of unknown animals! [contest voting]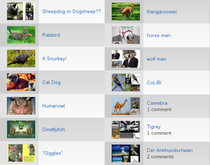 Submissions to the current contest
Crazy and fabulous creations await you in the voting area of our current fun contest. Many of you have made a new species, nevertheless the submission period is now over and we encourage you to vote for the newly created animals you like and help us determine the winner for this contest!
The submissions page has turned into the voting page where you'll see all of the 14 entries. You're free to vote for any one you like until the voting period is over in about a week. Then we will have a winner.
Thanks for all of the great creations. It made us laugh more than once ;) Enjoy the voting!