[New contest] Create a new animal species!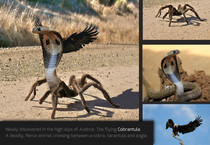 Create a fictional species in our new contest!
It's high time for a new contest to wake your creative minds ;) This time we want you to play god – well, a little bit at least. Your task is to create a very new species by merging animals together to create a new animal. You can also use existing surfaces of objects/vegetables/fruits to use as a new skin!
Please find more details on our contest overview page. While the contest is active we enabled our contest widget on the right side. It gets you fast access to the contests main page as well as to the submissions uploading page.
Our new forum
As you might have seen it already: our mailing list forums has been completely redone. This was needed since our user base is growing and we found that we needed a better one.
It is now much more like a real forum and looks a dozen times better than the old one ;) Also you're no longer forced to post your threads on a mailing list if you don't want to. If you want you can discuss your contest creations there too. We've created two new sub-forums as well (one for graphics stuff and an off topic forum). Take a look – we hope you like it!