First experimental GIMP 2.9 with 16Bit support for Windows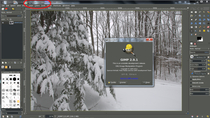 GIMP 2.9 with 16bit support for Windows (image by patha.com)
Back in May the GIMP developers have shown the first development version of GIMP that could handle 16/32bit per color channel. Now Partha Bagchi made it happen that Windows users can try this out for the first time!
Keep in mind that this is very a experimental version and not intended for production use. On his website he released a version he built from git, so it is possibly one of the latest version you can currently get.
If you're lucky the version will work for you, however, on a quick test on my virtualbox Windows Vista 64 (SP1) the version crashed after the start-up process with an empty single window mode without docks and I was not able to do anything. I'll test this on some other computers later on and will update the news if I'm able to run it.
We've included the link into our combined downloads section for future reference.
Update 17.10.12: Currently the download at partha.com is temporarily disabled due to some bugs, that made it impossible to launch GIMP 2.9
Update 2 – 24.10.12: There is a new version up now, that's working better (at least for me ;)) – no crashes in GIMP itself anymore, however the on-canvas-editing is very slow so this version should really only be used to get a quick look into the current development progress!