Edit your images in your browser with G'MIC online!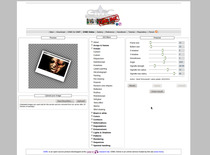 A polaroid effect made in the online version of G'MIC
Yesterday the creator and maintainer of the well known plug-in G'MIC, David Tschumperlé, published an online version. It was developed by his collegue Sébastien Fourey.
With it you are able to apply the 202 filters that usually come with the plugin on images you upload to the service. This can be perfectly used for simple editing of your photos, ie. you can sharpen, de-noise images or simply make a polaroid or sketch effect out of you photos. You can also make black-white effects and combine different filters. It is very simple, and the great thing is that you see an online preview of you selected filter in a thumbnail to the left. After you apply the filters of your choice you can download the full version of your image. All of the editing is donw server-side, so there is no need to use your CPU for processing the image,
However, since you cannot make selections or other detailed editing stuff, GIMP is still needed if you want to get the most out of the plugin.
But still – the web version is very cool, so head over to G'MIC online and try it out yourself. The only limitation is a maximum file size of currently 2MB.
Thanks to coco for the hint!