The GIMP Magazine #1 is available!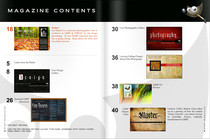 GIMP magazine #1
Great things happening in the GIMP community right now. The team that is creating the first GIMP magazine (Jorden, Rod, Dave, Oma, Rolf, Sandra and Steve) is proud to announce the release of their initial issue!
The mag is very cool and offers a lot of different stuff to read: I most enjoyed the cover story of a photographer (Ian Muttoo) that uses GIMP and UFRAW. But all the other stuff is really cool too, just take a look at the contents overview and then head over to the official blog post and download it!
For issue#2 they are planning a printed version too, details on that should follow.
Also, if you want to contribute, the easiest way is to follow them on Twitter @gimpmagazine!