Partha.com has made a native Mac build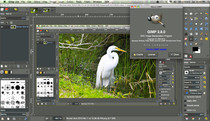 GIMP 2.8 in native Mac environment
Partha.com always was a nice place to get up-to-date Windows versions of GIMP in the past. Now he offers a Mac OS X build too.
The difference between the one that was made by gimp.lisanet.de is that parthas build is now a native one, that doesn't use the X11 graphics server. We've included both downloads in our downloads section. I myself cannot tell you which one is working better since I'm not a Mac user.
Some of the important plugins (G'MIC, wavelet, etc) are preinstalled in this build.
You need Snow Leopard or later to run parthas build. Have fun!