Sneak peek at Issue #1 of the all new GIMP Magazine!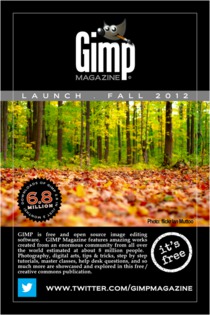 GIMP Magazine #1 will arrivein autumn 2012!
Wilber gets a professional magazine! The past months have been the period of gathering the contents for the first issue which is almost complete by now.
The GIMP Magazine covers high quality content for GIMP – Issue #1 will be 50 pages filled with very cool stuff. We've got a a sneak peek of what will be in:
Cover Story of a photographer who is exclusive to both

GIMP

and

UFRAW

Stunning Master Class tutorial in

GIMP

.
A truly awesome

GIMP

transformation of a real location in France.

HDR

photography story using

GIMP

and related software packages
Amazing design gallery – Contributions from the

GIMP

Community
Very cool photography gallery – More contributions from the

GIMP

community
A "Back to School" article listing essential

GIMP

resources filling literally two blackboards
A unique non-technical

GIMP

2.8 review
A Call for Content for Issue #2 & #3
The magazine will have a cool, professional layout with a size of 8.125″ × 10.75″ and will totally free. It will be released in different online formats too.
We're eagerly waiting for the release of the first issue and will keep you up-to-date on this!
When? When? When?
There is no exact release date, but it is aimed for a release in autumn! The creators are planning releases on a quarterly (4 issues per year) basis. During August there will be more insight into the magazine which will be published on The GIMP Magazin on Google+
Follow them on Twitter: twitter.com/GIMPMagazine
Thank you, Steve, for letting us know!
Update #1: The website now shows the title image of the GIMP master class article where a city of France is set into the future where people have left the city and nature starts to get the city back!