Space optimized gray icon theme for GIMP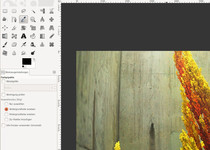 GIMP 2.8 gray icon theme
We've been informed by one of our users that there is a nice grayscale icon theme for GIMP 2.8 available.
At the Blog Linux for Designers by Eckhard M. Jäger there is a nice theme available that makes all of the GIMP icons gray unless one tool is activated (colored then). Besides that the font is also made smaller to give you more space you can use to pimp your photos.
Download the Icon Theme
Extract the file into your user space /.gimp-2.8/themes
A folder will be created named ProGimp.
Restart

GIMP

and go to Edit / Preferences / Theme and choose the "ProGIMP". It should be activated instantly.
It should then look like the theme you can see in the screenshot to the right
Great stuff!
Thanks, Bart, for the tip!