GIMP 2.8.0 for Mac OS X available! [Update]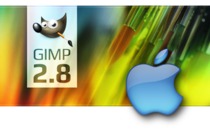 GIMP 2.8.0 for Mac OS X
Thanks to the efforts of Simone Karin (gimp.lisanet.de) all Mac OS X users now have the chance to download and use GIMP 2.8.
Supported platforms: (builds are X11-based)
Mac OS X Snow Leopard
Mac OS X Lion
As you can read in her GIMP 2.8.0 for Mac announcement, she has built some other very useful plugins for GIMP 2.8 too and put them into the package (i.e. wavelet denoise, chromatic abberation, focus blur, UFRaw and more).
Update May 13th
There is a new version available. Please install the updated .dmg package.