New GIMP brushes collection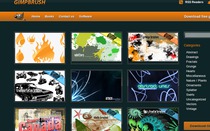 More than 80 brush packs are already available on gimpbrush.com
For some months gimpbrush.com is collecting brushes which you can use to greatly enhance GIMP for all kind of painting and image editing!
Meanwhile more than 80 brush packs have been collected from different sources, and most of them are really quality work! You'll find commonly used ones (Floral Brushes, Grunge or Hearts) but there are also some uncommon brushes as well like Halftone- or Water-brushes. It's a great website, so don't miss it!
The latest brushes on gimpbrush.com are also found on our Main page since some weeks. We've added the source there, so you'll find it easy to see when new ones are added to the database.
To use brushes you need to download and extract the contents of the archive into the /brushes/ folder of GIMP in your user space or in the installation directory. A different method is to use a directory of your choice and add this directory in GIMP under Edit / Preferences / Folders. Restart GIMP and your new brushes will show up in the painting tools (brush, pencil, etc).
With the upcoming GIMP 2.8 you'll have a cool new feature to tag and categorize your brushes and filter them, so you can easly handle masses of resources. 2.8 is targeted to be released in the near future.