Awake statues or stone sculptures to life by colorizing them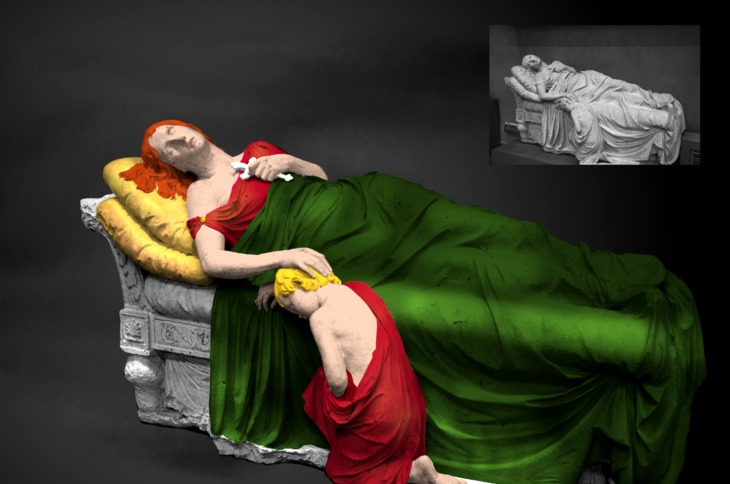 Submission period:
06 Apr 2015 14:00 UTC – 06 Jun 2015 20:30 UTC
Voting period:
07 Jun 2015 00:00 UTC – 14 Jun 2015 23:30 UTC
Introduction
Along with the comics colorizing contest this one has a similar yet different topic. The base for the colorization needs to be a photo of a statue or stone sculpture. As shown in the example above I tried to colorize the sculpture. It is not necessary to bring them totally to life (no photo realism is needed). The key point is to colorize in fanciful/visionary way. You can also add some accessory stuff on your own to the scene (maybe neclaces, rings or so). We hope you're having fun with this contest, too ;-)
Specific rules
I just came back from a trip to florence in Italy, which is aka "the city of renaissance". It was awesome and I took some pictures (of course ;)) which I uploaded to flickr for this contest. You can use it if you want. Many of these fotos were taken in the Galleria dell'Academia which is a famous museum showing the original DAVID statue of Michaelangelo, too.
Please show the base image in the end picture in any way (for instance as a miniature in one of the corners).
General rules
All uploaded images are published under the Creative Commons Attribution-NonCommercial 4.0 International (CC BY-NC 4.0) License.
You need a free gimpusers.com account to participate. You can use it to manage your submissions.
All images have to be created with GIMP.
Submissions are only accepted if uploaded using the Submissions page. Every image is required to be in JPEG or PNG format, and the GIMP workspace has to be uploaded, too.
Please save and upload your GIMP workspace as .xcfbz2 file (instead of .xcf). The steps of the creation process should be as traceable as possible so that others can benefit.
Make sure that all legal requirements are fulfilled, especially the copyright of used images. You can reference your sources in every submission's description.
You can upload up to three submissions and modify/delete it until the end of the submission period.
Submissions remain public when you should delete your account, but they won't be associated to an author anymore.
Possible prizes are provided by the named sponsors. There is no legal claim to the prizes.